Our Service List
August 1, 2019
Dog Grooming
Bath 80-100 lbs
Over Weight fee is $0.50 per pound
Haircut 80-100 lbs
Over weight fee is $0.50 per pound
---
Grooming Add-Ons
Nail Clip/Dremel
clip or dremel
Extended Grooming Past 2 Hrs
Bath
Example Bath Dogs are: Boston Terrier, Boxer, Chihuahua, Dachshund, Great Dane, Jack Russell, Rottweiler, PitBull

Shampoo/Conditioner with the Prima Bathing System

Ears Cleaned

Anal Gland expression

Hand blow drying/NO Cage drying

De-Shedding

Paw Pad and Sanitary Trim

Nails Trimmed

Cologne w/Bandana
AS OF APRIL 2019:
Doodles 0-30lbs $75
Doodles 30-80lbs $125
Haircut
Examples Haircut Dogs are: Australian Shepherd, German Shepherd, Golden Retriever, Havanese, Maltese, Pomeranian,
Shih Tzu, Sheltie, Yorkie

Everything in Bath

Breed Standard Haircut

Custom Haircuts are available
**All LONG HAIRED and DOUBLE COATED Dogs are a Haircut Price due to the amount of supplies they take and the length of time it takes to do them properly**
~All Prices are subject to change depending on the condition and difficulty of the job.
~Any dog that takes over 2 hours will have an additional $25 charge for each hour over the 2 hour time frame. The average dog takes less than 90 minutes.
****Rabies Shots are the only shots Mandatory for our services. We sanitize our Mobile in between each appointment so there is no cross contamination between dogs. An added plus to the one-on-one treatment they get! ****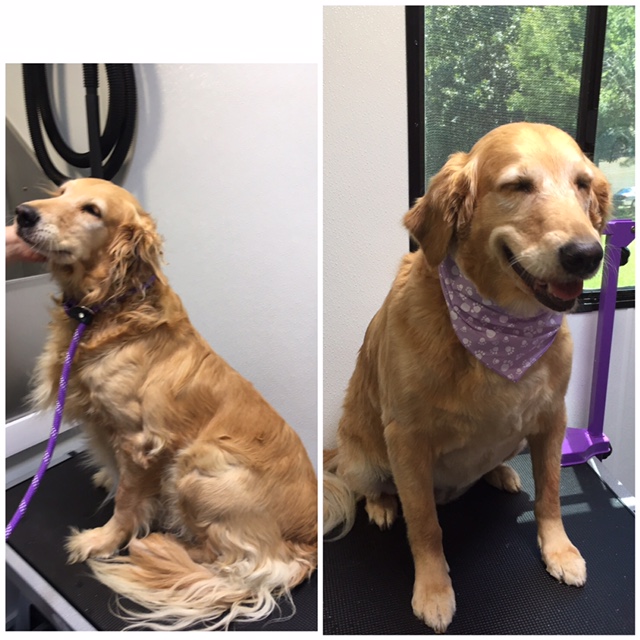 Please look us up on Facebook to see many more "before and after" photos of all different kinds of fur-babies!